13 Dic

Lunch and Learn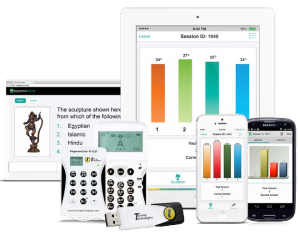 El pasado 8 de Noviembre tuvo lugar un curso donde nos adentramos en el uso de los sistemas remotos personales de votación, mejor conocidos como clickers.  Este sistema Registra automáticamente las respuestas de los estudiantes a las preguntas planteadas por el profesor, fomenta la participación activa de todos los miembros de la clase y proporciona en un gráfico las respuestas sobre las preguntas formuladas durante la clase, todo ello de manera inmediata.
En el IE contamos con dos modalidades de uso, los mandos y la votación mediante Responseware ( a través de smartphones, tablets o laptops)
Luego, se tocaron diferentes usos posibles como lo son la obtención información inmediata, medición y refuerzo de conocimientos, evaluación, peer review, colaboración en grupos y feedback.
Por último, revisamos los procedimientos necesarios para el uso de la herramienta durante las clases.  Si quieres aprender más al respecto, no dudes en ponerte en contacto con nosotros.
On the 8th of November we dug into the uses of remote voting systems, better known as clickers. This system automatically registers students' responses, evokes participation and elaborates colorful graphs with the data.
In the IE we have two different options for usage, with the remote controls and by the use of Responseware (by smartphone, tablets or laptops).
Then, we spoke about some of the different cases to use them, like obtaining immediate information, measuring and reinforcing of knowledge, evaluation, peer review, group work and feedback.
Finally, we looked over the procedure to use the tool in class. If you wish to learn more about it, please contact us.